Pre Wedding Photography
When couples are selecting wedding photographers, the majority are focused only on the big day itself and capturing the key moments.
The pre wedding photo shoot can be overlooked, and many couples don't even realise such a photoshoot exists and why they should consider hiring a photographer to shoot before the wedding day.

What is a Pre-Wedding Photoshoot/ Engagement Photoshoot?
Pre-wedding shoot photographers focus purely on the couple and no one else.
At Clover Image our goal is to capture that spark between two lovers. Photos highlighting the relationship that bought two people together. Hence the name Clover Image or "C-Lover" as we're seeing the lovers on their journey and blessed with the opportunity to treasure those moments.
You're given the time to be together in an environment where we can capture natural expressions, candid moments and real emotions during our intimate photoshoot.
There are no distractions, no one else but the couple being the main priority.
Our couples use them in their wedding invitation or as a slideshow at the reception. It becomes a WOW factor of your big day.
Benefits of having a Pre Wedding Photographer
Pre-wedding photoshoots give you a chance to work with our photographer and for our photographer a chance to work with you. This is going to allow you to feel comfortable with the photographer pointing a camera at you, and give an idea of how we operate, and what to expect from us on your wedding day. (Wedding Photography)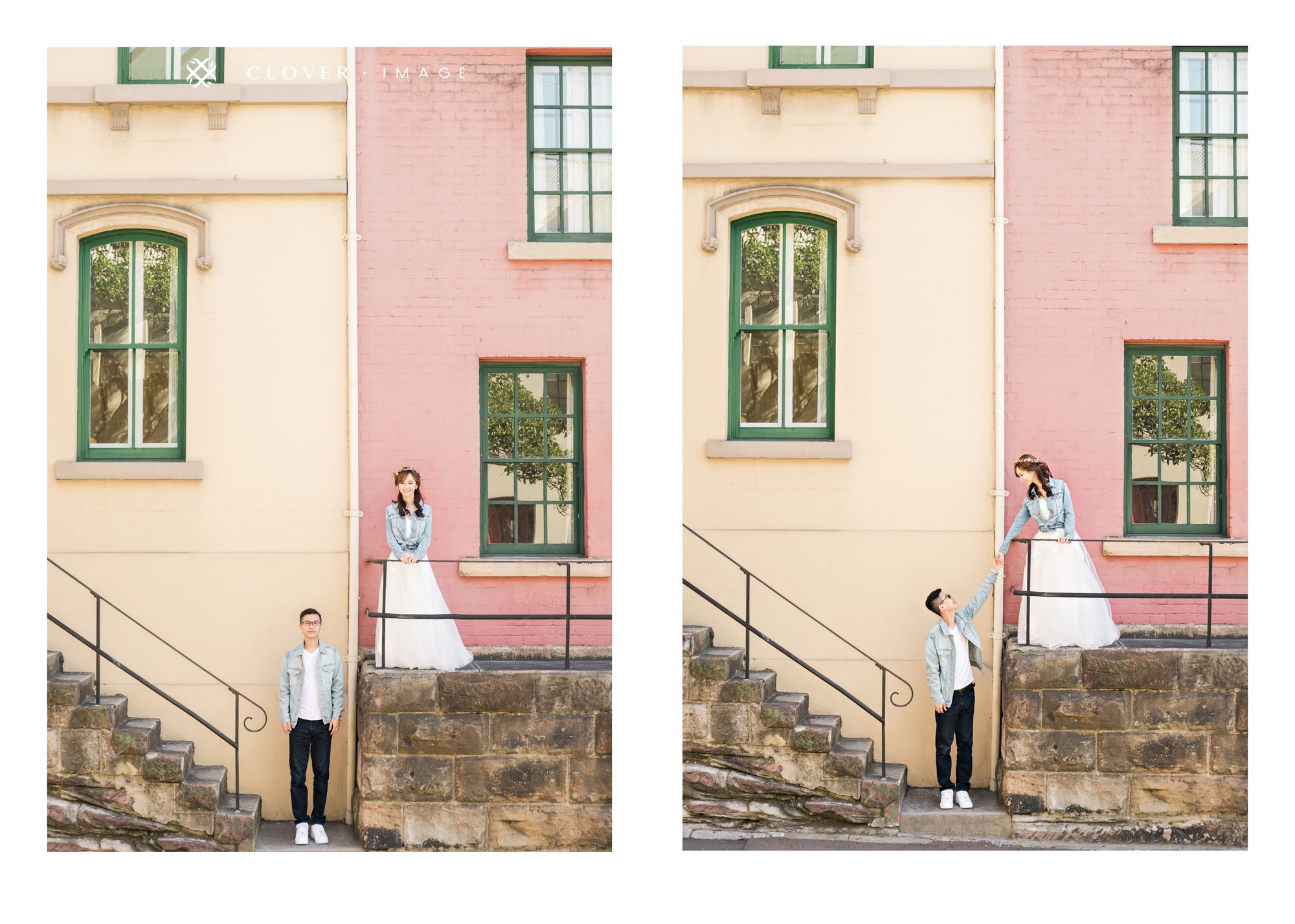 Our Processes
-Working With Your Budget
Here at Clover Image, we have a variety of packages to choose from, depending on our client's budget. Not sure what you want? Simply get in touch with us and we'd be happy to guide you through the process and make recommendations. Our pre wedding photography starts from $1880, and you can get more information by just sending us an email or simply calling us directly.
-Our Style
Clover image specialises in a great combination of photography styles. We hold ourselves to a high standard with our photos to produce images we can be proud of. Our commitment to our customers is what makes us Sydney's number 1 pre-wedding photography specialists on Google.
We Specialise In:
Effortless style: candid photos with limited guidance of posing, try to capture the natural moment of the couple without interruption.
Fine Art style: more classic colour toned, with iconic scenery such as Opera house, Harbor bridge, sunset for the ocean views, with timeless posing to matching the WOW factors
Lifestyle: more focus on the storytelling. We listen to our clients and create something special that relates to their daily lifestyle or romantic love story and make it like a movie script, and we use these ideas for their photoshoot.
Not sure which style is right for you? Get in touch for a free consultation.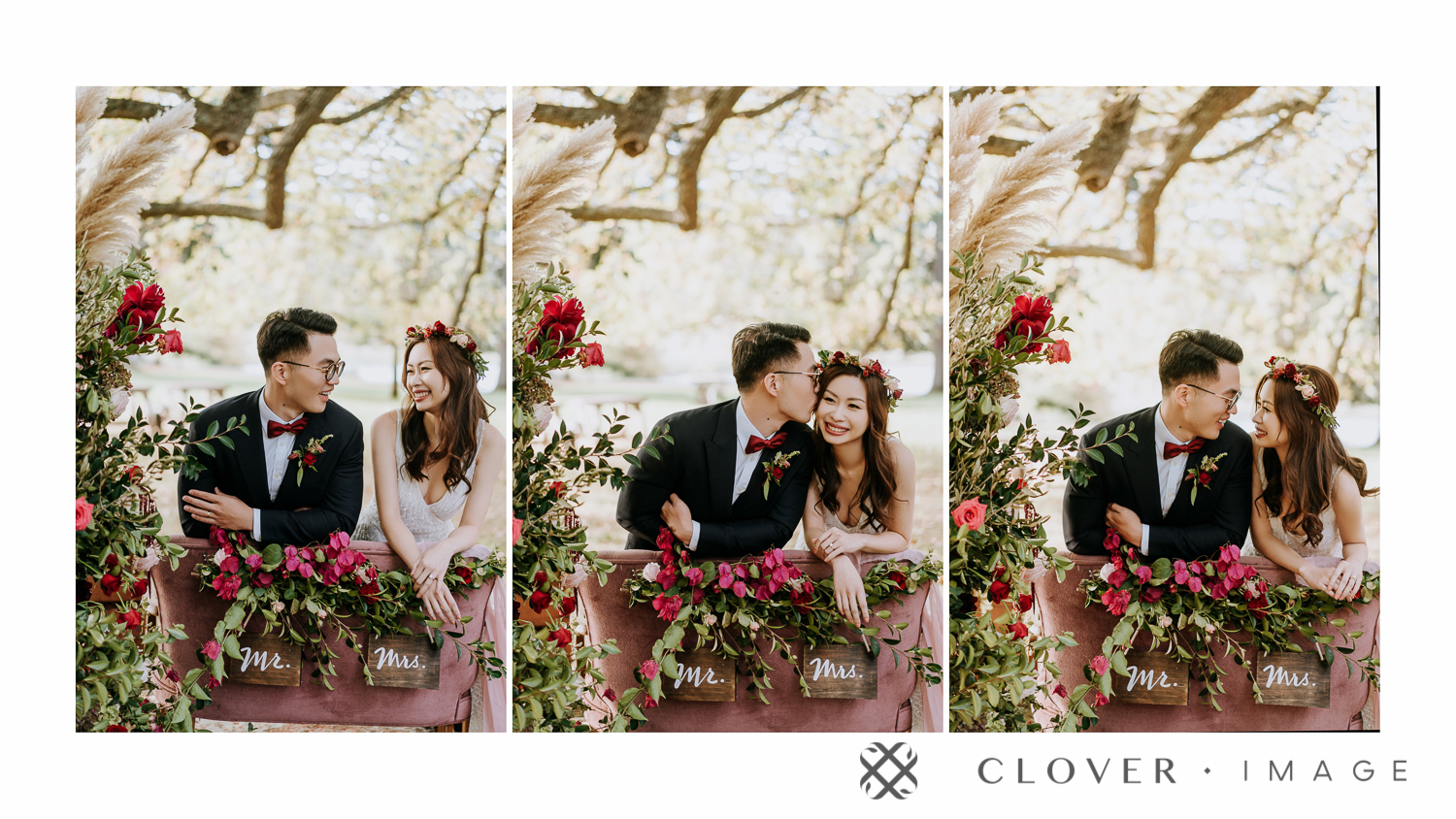 -Booking Availability & Reservation
When it comes to booking our photographers are in high demand. We recommend the sooner, the better, and at least 3 months in advance to avoid disappointment.
Please reach out via our contact us form to secure your dates.
-Initial Consultation
Every pre-wedding photoshoot is customisable based on our client's preference.
We take the opportunity to get to know you as a couple, your preferences and personality first to recommend you the best shooting plan.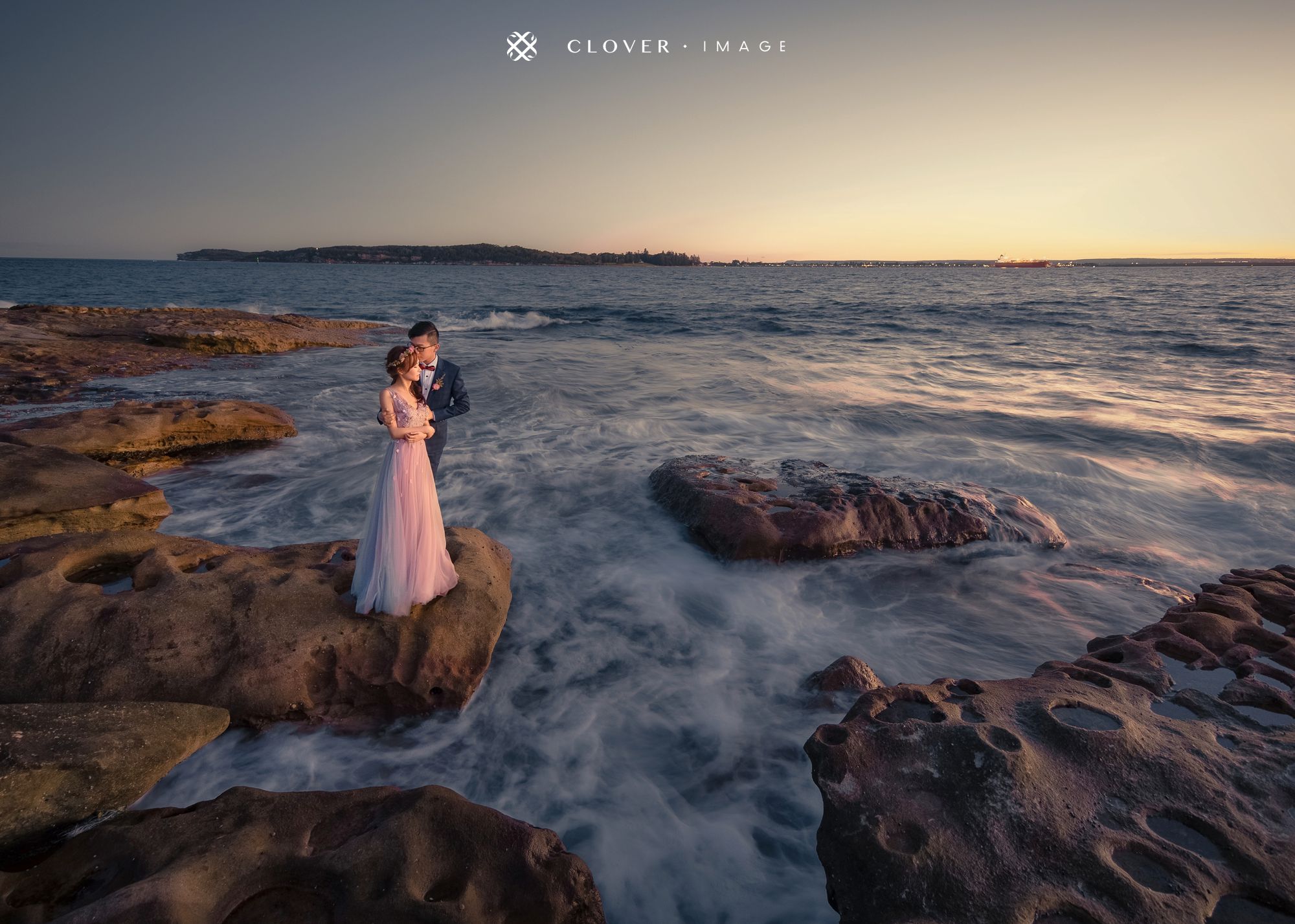 -What's included in our pre-wedding photoshoot package
Pre-consultation with our photographer to customise your shooting plan

Dress fitting session to match your shooting plan

Bridal gowns and groom's suits rental

Bridal make-up and hairstyling during the photo session

Bridal accessories for styling

Transportation during the photo session (Due to the COVID pandemic, we recommend our clients drive their car to reduce the risk of virus transmission)

Personalised album design session with your photographer

Service guarantee
-Your Pre Wedding Photoshoot Day
From your initial consultation, our team will consider your preference and preferred style. A customised shooting plan, well-selected outfits and accessories, a happy couple, what we need is beautiful weather for our shooting day!
On your pre-wedding photoshoot day, it's not just about making beautiful portraits (We're good at that), but we're also telling a story about a couple's life together.
Take your time and get ready to look fabulous in front of the camera as our experienced photographers guide you through the photoshoot.
Have fun and enjoy the moment!

-Photo Editing & Post-production service
After the photoshoot, you're invited back to our studio to check the photos together with us. All the editing is completed based on your preference. When the retouch photos are ready, we will prepare your album and other post-products included in your package. Just be ready for your breath-taking album to arrive.
The Clover Image Difference
With more than 200 international awards from WPPI, Asia WPA, ISPWP and Fearless Photographer, Clover Image is proud to be one of the most awarded wedding photography teams in Sydney.
Everything from our industry-leading photographers, post-production, editing and delivery is managed in house and communicated with the client to ensure your feedback and preferences are taken into consideration.
Why Clover Image?
Our two in-house photographers, Aries & Min, are award-winning and renowned specialists in the field. Combined with over 10 years of experience, our team has both the artistic talent and skill set to shoot a variety of styles.

As our client, you can choose a suitable photographer based on your preference and budget. You can meet our photographers in person or online before your shooting day to have a detailed conversation about your shooting plan. We take your photoshoot seriously.

We don't provide a template of shooting locations as we believe every couple is different, and their love story is different. Like our fingerprints, everyone is unique and deserves a personalised experience. We put in more effort prior to your photoshoot to get to know you to create a unique photoshoot.

We cater for international clients. If you are a customer from overseas, don't worry, simply dedicate one day in your itinerary for your photoshoot and we will try our best to review the photos with you before you leave Australia.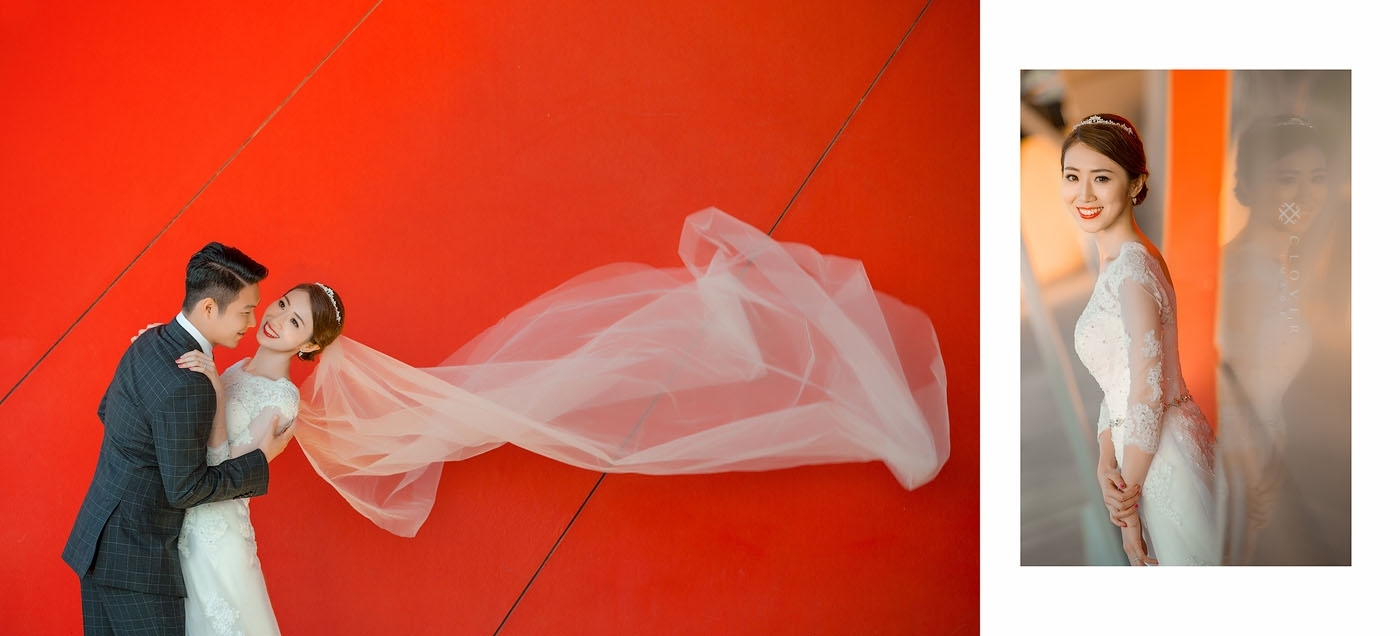 We had a great time having our pre-wedding photos done by Clover Image. We would like to thank Min and Saya for making our photoshoot memorable!
Both of the girls were easygoing and we felt very comfortable and relaxed. Overall a very positive and professional experience.
We had been searching for a quick unplanned pre-wedding photo shoot for the last memories in Sydney and Clover Image made it happen super smoothly. Thank to Min! She is very professional, positive, and cheerful. In every angle and poses came out perfectly even us not being photogenic. Saya, our makeup artist is very patient and calm. She fixed our makeup and hairstyle really nicely all the way until the end exactly like what we asked for! Everyone is very thoughtful and easy to work with. We are very satisfied with the result. I highly recommend Clover image for pre-wedding photo shoot!
Big hugs to Clover Image. We were searching online for ages and haven't got any wedding photography studio that met our needs and touched our heart until we found Clover. Their works really blew my mind when I saw it at the first time. And even feel more grateful and surprised when I see my own photos. Great works and our family and friends are all felling in love with your photos. Especially the one we took in La perouse. Master Piece! Couldn't thank you enough and hope more couples find you guys in the future.谢谢你们把我们想要的感觉都呈现出来了,非常感动!
We will provide all photos we took on the day and share them with our client in a digital format, the photo size will be 1980x1080. As these photos couldn't represent our service quality so we won't share them in a full size but a decent HD size for our client to keep as a keepsake.
You can find a range of client portfolios on our website in our gallery section.
These photoshoots are all done with our two super talented photographer Aries and Min featuring our fantastic clients in a variety of locations to showcase our talent.
Feel free to use them as a guide or inspiration however we'd love to tailor a photoshoot based on the couple.
Yes we do. We've had the pleasure of shooting in Japan, China, New Zealand, America, Fiji and of course all over Australia.
Yes. Get in touch to learn more about our Videographer Packages.
Our professional team will have a detailed shooting plan for you before the day of the photoshoot. Our photographer will manage the shooting list and compete it on the day as we promised.
From our experience the allocated time is generous enough to capture the perfect shot.
However unexpected circumstances such as heavy traffic to popular desitination can occur.
Being slightly over time due to traffic is acceptable.
We do however request that our customers to arrive on time for the photoshoot to ensure a smooth day ahead.
Yes, but some of the weekends could be booked for weddings and family sessions, so we highly recommend our clients to enquiry and secure the availability ASAP to avoid disappointment.
We normally have a 10-14 working days turnaround from the date of the photoshoot.
Once we've satisfied with how the photos have turned out we will invite you back to our studio and review the photos together.
All your photos will be saved on our hard drives for one year. We recommend our clients to save several copies of your photos in secure locations. You can always find us to ask for the copies within one year of your shooting day.