Sydney Chinese Wedding Photographer
When it comes to Chinese wedding photography, it is important to take traditional & cultural elements into consideration. If you're planning a Chinese wedding, it's important to choose a photographer that understands the cultural nuances.
At Clover Image, we specialise in Chinese Wedding Photography and had the pleasure of working with both domestic and international clients. Our award-winning team is fluent in English, Mandarin and Cantonese to assist you, your family and guests on your Wedding day.

Benefits of having a Chinese Wedding Photographer
At Clover Image our team has over 10 years of experience capturing award-winning photography. Speaking the language and understanding the cultural significance of each wedding tradition gives us an advantage when communicating and making our clients feel comfortable and relaxed throughout the day.
Not sure how to pose? Our expert photographers are happy to coordinate in English, Mandarin or Cantonese and guide you through the poses. And of course, candid photos are definitely included.
We'll work with you to capture the perfect shot.

What's The Difference Between A Chinese Wedding And A Western Wedding
A Chinese Wedding can be very different from a Western wedding.
Depending on the bride & groom, they might even have a hybrid wedding that includes elements from both cultures, such as:
Picking Up the Bride
Before the wedding ceremony, the groom leads a wedding party to his future bride's home. It kicks off the day with firecrackers, drums and even gongs used to signal the start of the journey.

Putting the Groom to the Test (Door Games)
Putting the groom to the test (jiēqīn yóuxì 接亲游戏), also known as door games, is a key highlight of the day's festivities. Typically door games are prepared by the bridesmaids to test the groom's determination to marry the bride and to win approval from the bride's family. The tasks vary, but typical games involve:
-Physically challenges to see he's strong enough to protect the bride
-Testing the groom's knowledge of the bride
-Eating something spicy, sour, bitter, and sweet to prove that he can go through every stage of marriage
-At least one challenge that involves pain.
The groom may also have to hand over a red packet with money for the bridesmaids to "surrender" their friend. Only upon winning all challenges will he be allowed to enter the bride's room where the final challenge is to locate the missing bridal shoe to put it on the bride's foot, and then carry her out to the living room for the Chinese tea ceremony.
Tea Ceremony
The tea ceremony is where tea is served to the elders of the couple and a chance for the elders to impart well wishes and advice to the soon-to-be newlyweds. The newly married couple honour their parents by serving them tea. They kneel and serve the parents and in-laws tea. Shown as a sign of respect.
The Exchange of Vows
Depending on the couple, the ceremonial exchanging of vows may take place at a local government office, or in an intimate ceremony in front of the family altar to pay respect to ancestors and conclude with a bow to each other. Some couples may also choose to have a Western-style wedding, complete with a white wedding dress and walking down the aisle. These days it's quite common to have a hybrid style wedding with both eastern and western elements.

The Wedding Banquet
A lavish multi-course affair that is sure to have the guests stuffed to the brim. The evening's menu consists of symbolic, auspicious foods, a fish course for abundance, a suckling pig to symbolise the bride's purity, a poultry dish (usually chicken or duck) for peace, unity, and a sweet lotus seed dessert for fertility.

Change of Dresses
Typically, a Chinese bride will change her dress at least three times. One dress is worn for the special tea ceremony with the groom's relatives in the morning, a second outfit is incorporated for the actual wedding ceremony, and a third dress a chosen for the reception. Some brides also opt to change several times over the course of the reception, for fun.
Traditional white wedding dress

Red qipao (long Chinese wedding dress)

Evening ball gown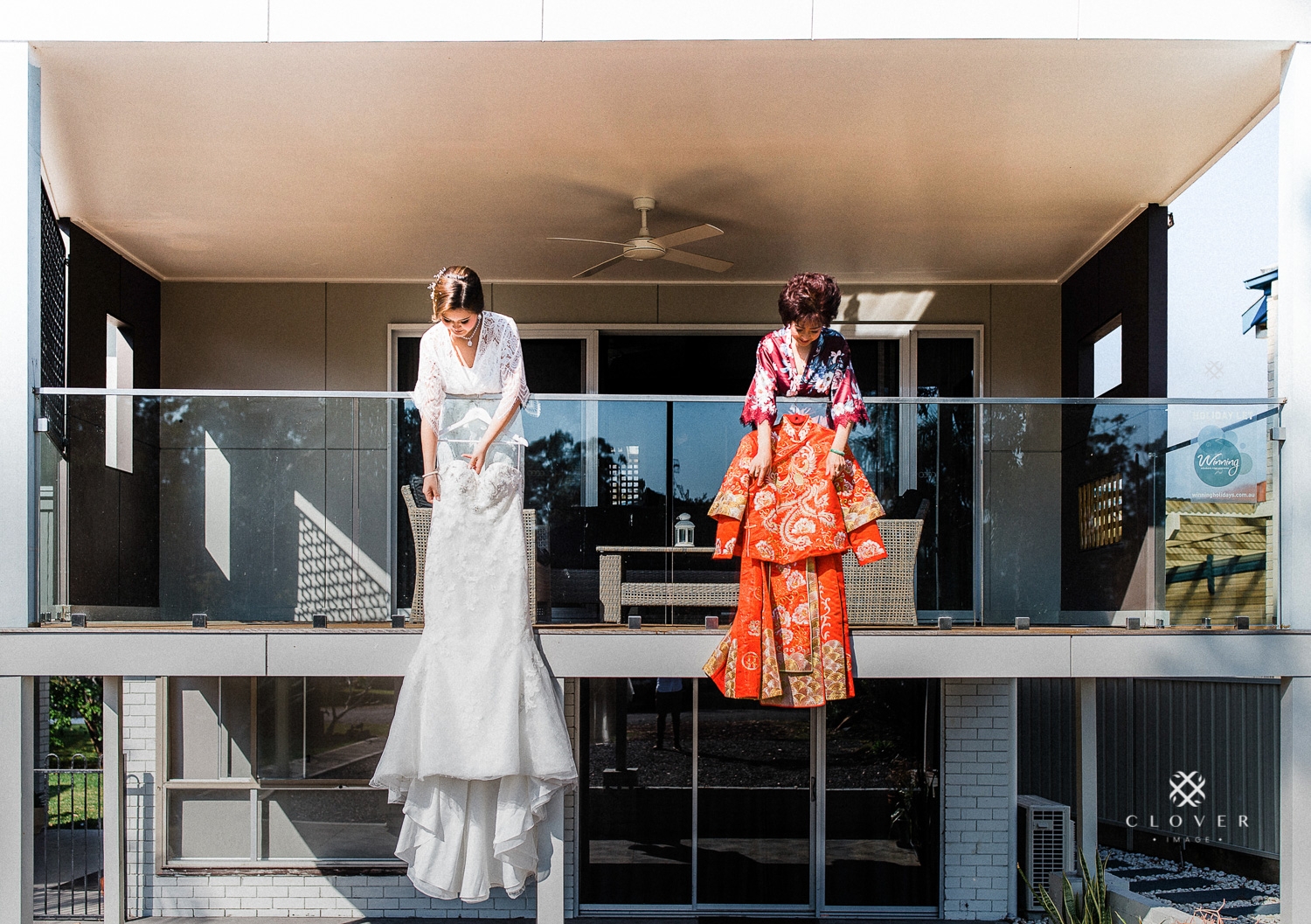 Regardless of your plans for the wedding, Clover Image is here to help.
From start to finish our experienced photographers will be on-site capturing special moments that will be treasured forever.
Our Wedding Photography Studio
Led by Aries Tao, the AIPP NSW Wedding Photographer of The Year, Clover Image has been recognised as one of Sydney's best wedding photography studios. From humble beginnings back in 2012, Clover Image now carries a high international reputation for its unique fine arts style of wedding photography masterpieces.
200+ Industry awards
AIPP – NSW 2017 & 2018 Wedding Photographer of the Year – Aries Tao (Clover Image Executive Photographer)

AsiaWPA – Photographer of The Year 2016-2017 – Aries Tao (Clover Image Executive Photographer)

WPPI (Wedding & Portrait Photographers International) – The Annual Competition 2017 – Groom Alone: Wedding Day – 1st Place
With over 10+ years of experience and countless awards, check out the list of our accolades here.
Capturing Your Moment
Weddings are full of moments – a smile, a laugh, a kiss, a gesture, an expression – that can pass within the blink of an eye. It's our job to notice all of these interactions and capture them with as much clarity as possible. Our expert photographers are always on the ball, watching every move you and your partner make.
At the end of the day, our goal is to produce amazing photos you can be proud of. This includes carefully choreographed photos with the bridal party and family members, as well as impromptu photos of spontaneous and romantic moments.

Working with Clover Image
-Initial Consultation
Our photographers will use the opportunity to get to know you:
Go through your event run sheet and tailor shots throughout the day

Learn about our client's preferences

What you guys enjoy and capture what is essential to you.
Whether you have a vision or a specific request on the day, our award-winning team is more than happy to accommodate.
-Understanding Your Budget
Here at Clover Image, we have a variety of packages to choose from, depending on our client's budget. Not sure what you want? Simply get in touch with us, and we'd be happy to guide you through the process and make recommendations. Our Wedding Photography Packages start from $1999 and you can explore all our packages and inclusions here.
-Booking Availability & Reservation
When it comes to booking our photographers are in high demand. We recommend the sooner, the better and at least 3 months in advance to avoid disappointment.
Please reach out via our contact us form to secure your dates.
-On Your Wedding Day
Our team of experienced wedding photographers don't follow a set formula.
Anyone who's been to a wedding understands that a wedding is filled with activities throughout the event. From start to finish, our team is there to support, guide and capture special memories. Some of the shots will be planned and staged, while some of our best works can be spontaneous and unexpected.
Our only request is to relax and have fun. It's your big day. Enjoy the moment!
Regardless of weather conditions, our expert team will always ensure the camera settings are optimal for both indoor and outdoor shoots, sunny or overcast conditions.
Before the event even starts our photographers will be on-site meeting with your bridal party.
Depending on your wedding photography package, our team will cover everything from bride & groom preparation, first look, location shoots, couple, family & group portraits, ceremony & coverage up to the end of the banquet.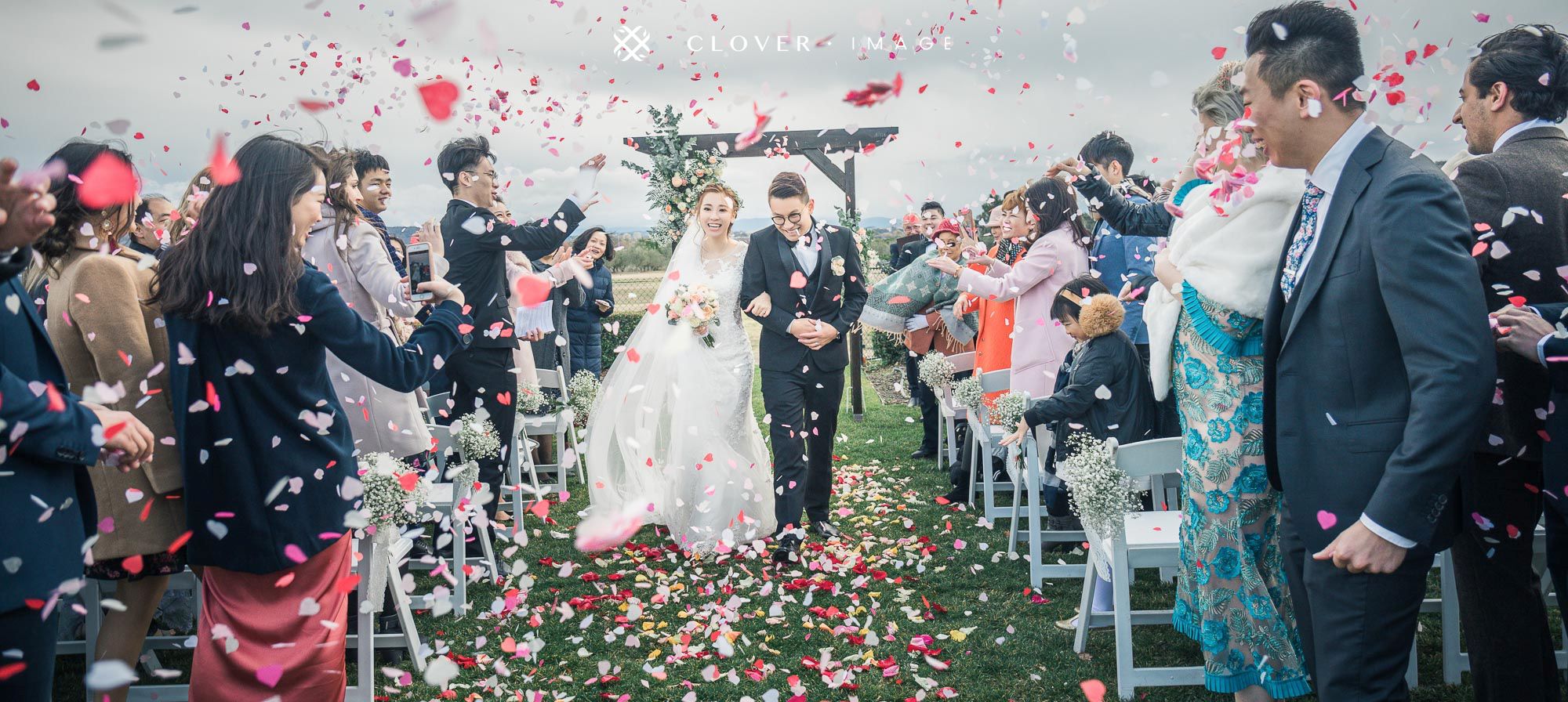 -Post Production Editing
After the wedding day, both the bride and groom are invited back to our studio to check the photos together with us. The couple will have a chance to design your wedding album with our team in person, make all the changes and save the best sparkle memories of the big day.
-Delivery
Clover Image offers a variety of options on the finished photos, including custom printed albums, photo frames and canvas prints. For more details, simply get in touch.
The Clover Image Difference
With more than 200 international awards from WPPI, Asia WPA, ISPWP and Fearless Photographer, we are one of the best wedding photography teams in Sydney. Everything from our award-winning photographers, post-production, editing and delivery is managed in house and communicated with the client to ensure your feedback and preferences are taken into consideration.
Why choose Clover Image
Our two in-house photographers, Aries & Min, are award-winning and renowned specialists in the field. Combined with over 10 years of experience, our team has both the artistic talent and skill set to shoot a variety of styles.

As our client, you can choose a suitable photographer based on your preference and budget. You can meet our photographers in person or online before your shooting day to have a detailed conversation about your wedding day. We take your photoshoot seriously, and we'd love to get to know you better prior to the big day.

Every Wedding is different. We don't provide a template of shots as we believe every couple is different, and their love story is different. Like our fingerprints, everyone is unique and deserves a personalised experience. Our professional team will be on the lookout to capture moments that you'll treasure forever.
What Our Customers Say About Us
Min is very professional, she goes through what sort of things you want to take and how the tone and angle you want, then on the day she has prepped with examples on her phone so she can mimic what she had in mind. Very professional and knows what she is doing, would highly recommend. She is fluent in English, Mandarin and Cantonese.
Perfect Photography service from Clover Image! We can't ask for a better service. Under COVID-19 situation, we changed our date once and the team is very understanding with flexibility in changing dates arrangement! This just took off the stress from us.
On our wedding day, Senior photographers Aries and Min were amazing with remembering all our requests. We had a sudden change of plan 5 days before, they accomodate with no concerns. They provided the sneak peak 2 days after the wedding, so that we could share to our family in oversea straight away.
Overall, the whole experience is bizarre with no complaints at all! We just love the passion of photography, reliable photographers and professional advice from Clover Image.
Thank you to the wonderful team at Clover for making this photoshoot extra special to us. From consultation to photoshoot, there was clear communication and everything was planned out nicely. Big shoutout to our photographer Aries who is creative, talented and most of all original in his own ideas and our makeup artist Saya who spent time to discuss the different styles that would suit for the photoshoot with us.
We loved the fact that our photoshoot represented our love story and it's something that we will treasure forever. 谢谢CLOVER团队!Highly Recommend Clover!
Clover Image is a very professional team, really good commnication and service. We would like to express our big thank to everybody Felicia, Saya and Min~~ This will be amazing and unforgetable memory for us in Sydney. If someone want to take pre-wedding or wedding photos in Australia, choose Clover Image! That must be a ABSOLUTELY right choice!
We picked it up from the post office on Friday and it's just gorgeous! We are so happy with the result and it will be a source of treasured memories for our whole lives.
Thank you again to clover image for such a wonderful job photographing our wedding day. It was amazing to receive the digital images so quickly after the wedding and it was even better seeing our story in the beautiful album.